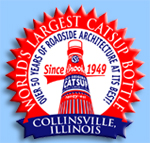 ---














All marketing, promotion, merchandising, and usage permissions for the World's Largest Catsup Bottle®, Fan Club, Web site, and Festival are handled by the Catsup Bottle Fan Club through an exclusive agreement with the owner and with permissions from Brooks Foods. Brooks® is a registered trademark of Birds Eye Foods, Inc.

The World's Largest Catsup Bottle® Fan Club, Brooks Foods, Birds Eye Foods, and our sponsors accept no liability for anything arising out of anyone's association with this web site or the Catsup Bottle Festival. But, of course, we'll be happy to take full credit for all the good stuff!

We have no affiliation with the Collinsville Chamber of Commerce, the Downtown Collinsville, Inc. Main Street Program, the City of Collinsville, or any of the other Collinsville festivals or events.

Unauthorized use of anything having anything to do with the World's Largest Catsup Bottle® is strictly prohibited.

Thank you for reading the fine print, and thank you for your support.




---