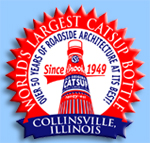 ---













News and Information Archive : 2003 (Part II)

Date: July 6, 2003


• The 5th Annual World's Largest Catsup Bottle Summerfest Birthday Party and Car Show Bash on Sunday, July 6, 2003 was an overwhelming success! Get all the details and take a look at the photo galleries here. The tentative date for 2004 is July 11. Mark your calendar now!

Date: July 13, 2003


• The Trailnet Bicycle Fun Club held its annual "Big Bottle Bicycle Ride" this Sunday. Kathi Weilbacher let us know that 497 riders participated. Very cool! Trailnet is a wonderful organization that also manages the historic Route 66 Chain of Rocks Bridge.

Date: July 22, 2003


• This week's edition of Woman's World magazine has a two page spread by Debra Michaels entitled "Take a wacky, fun tour of the USA!" Our Catsup Bottle is in good company with Chilly Willy in Cut Bank, Montana, the World's Largest Egg in Winlock, Washington, and the Giant Peach water tower in Gaffney, South Carolina.


Date: July 25, 2003


• Today on its Opinion page, the Belleville News-Democrat runs the greatest cartoon it's even printed! (Of course that's OUR opinion...) After a fire at the Gateway Arch, and then one at the Eiffel Tower, nationally syndicated, award-winning cartoonist, Glenn McCoy, who happens to be a local Belleville boy making the big time, drew this piece that just made our day. And what's really funny is that we thought of the same gag ourselves. As they say, "Great minds think alike!"

Date: July, 2003


• We received the most excellent new brochure/poster from the Illinois Route 66 Heritage Project. Since its official designation as a Heritage Corridor by the Illinois Bureau of Tourism in 2001, the not-for-profit Illinois Route 66 Heritage Project has been serving the needs of communities, businesses, and travelers. Click the link for more information.



Date: July 28, 2003


• In June, the Catsup Bottle Lady and Downtown Collinsville, Inc. Manager, Judy DeMoisy, attended the Illinois Main Street Program managers' meeting in Jacksonville, Illinois. To help promote the Summerfest she took along the Catsup bottle costume... and as usual, there's somebody little enough, and brave enough, to wear it! Here we have the Main Street manager from Orion, Diane Welborn, looking good! Thank you to Janine Loftes of Momence for sending us the pix.

Date: August 1, 2003
• Keep a look out for a Catsup Bottle feature in an upcoming issue of American Profile magazine.
• Also keep a look out for an upcoming promotional set of playing cards from Caldwell Tanks, Inc. Each of the cards will feature a photo of a project done by the company. And just in case you're wondering, the Catsup Bottle is on the nine of hearts.
• We just send a hi-rez photo to Sophie Blackburn in Canada for a new tourist attraction park. The project will include an informative sign with pictures of water towers from around the world. It is scheduled to open in June of 2004. For more info go to www.tourismealma.com.



Date: August 12, 2003
• This aught to be fun! We just signed the release form for Arnoldworldwide to include a World's Largest Catsup Bottle postcard in an upcoming 30 second TV commercial. The ad will be part of a campaign for Choice Hotels' Triple Miles promotion. Choice Hotels includes Comfort Inn, Quality Inn and more. The spots will begin in September 2003 and run in the U.S., Canada, and Australia for 18 months on free and cable television.

Date: August 25, 2003


• With the national American Legion convention being held in St. Louis, our local Leighton Evatt Post 365 held a "Call to Collinsville" day and invited legionaires from around the country to visit our community. A good time was had by all as we hosted a Catusp Bottle information table and made a lot of new friends! Click here for more info and to see some more photos from our night at the Collinsville American Legion.

Date: September 6, 2003


• On Saturday, September 6, we cruised on down to Chester, Illinois and enjoyed the 24th annual "Popeye's Picnic." It's a great celebration to honor Popeye and his creator, Chester native Elzie Segar. One of our favorite roadside stops, the Popeye statue, is there in Segar Park.

Date: September 21, 2003


• We attended the Royalfest Comicon at Collinsville's Gateway Center and had the pleasure of meeting Yvonne Craig and Mike Grell. Ms. Craig is probably best known as Batgirl from the 60s Batman television series and Mr. Grell is a well-known comic book artist.

Date: September 30, 2003


• Our new friend Sarah Bunting from New York City has listed us on her web site, Tomato Nation, as her "Good Grief, Ma" Site O' The Week.

Date: October 16, 2003


• Boris and Jen from the WRRV morning show listed us as their link of the day today. WRRV is the Hudson Valley's NEW rock alternative station... we need to add some more tin foil to our antenna so we can listen in!

Date: October 20, 2003


• David Emery and the fine folks at the About.com network listed us as the #1 "Curiosity of the Day" on their Urban Legends and Folklore page.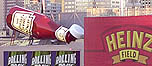 Date: October 20, 2003
• The St. Louis Rams take on the Pittsburgh Steelers at Heinz Field this Sunday. Not only will it be a battle of football teams but it will also be a battle of Catsup/Ketchup Bottles. Claims have been made that Heinz Field has the world's largest ketchup bottle... Now, we admit that bottle's really pretty cool, but we all know the REAL truth! This could be a new rivalry to span the generations - just like the Cards & the Cubs!! ...well, maybe... Let's just hope the Steelers are having to play "ketchup" football all day!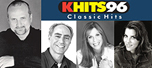 Date: October 21, 2003
• Hey, a special thank you goes out to JC Corcoran and the gang at St. Louis radio station KHITS 96 for discussing this new rivalry on the air this morning. JC has been a Catusp Bottle fan for many, many years and we appreciate it a bunch!

Date: December 2, 2003
• The tradition of the 400-pound Santa Claus decoration climbing the legs of the Catsup Bottle continued again this year. A special thank you goes out to Santa's helpers Rod Reinneck of Diversified Coatings in O'Fallon, Illinois, and Jimmy Smith from Pyramid Electrical Contractors in Fairview Heights, Illinois. Also we need to say thanks to the gang at Bethel-Eckert Enterprises for keeping the big guy in cold storage during the off season!

---