Date: January 2, 2002
• Some fun-loving high school kids from Peoria, Illinois, stopped by the office to say "Hi." They had heard about Santa Claus, found us on the web, and made a road trip to Collinsville!
• A call from California comes in asking about official Catsup Bottle merchandise.
• Judy interviews with Linda Albert from the Maryville, Tennessee, newspaper The Daily Times. At the publisher's request, Mike sends the great "Catsup in the Clouds" photo for the article.

Date: January 10, 2002
• The piece appears in The Daily Times to rave reviews! Linda and the newspaper receive quite a few positive comments, including many from Tennessee residents who once lived in the Collinsville area and wanted to share their Catsup Bottle memories.

Date: February 4, 2002
• We've got good news, and not-so-good news. The good news is that the date for the 4th Annual Downtown Collinsville Summerfest Catsup Bottle Birthday Party & Car Show is set for Sunday, July 7, 2002.
• Now for the not-so-good news: Those who have the controling interest in the Catsup Bottle Preservation Group have again denied support for this Web site. Yes, I said, "again." Since the creation of this site in 1998 it has been a pro-bono volunteer effort by professionals. The Preservation Group has shown little appreciation. For the first two years it begrudgingly paid for the domain name and web hosting. Now, for the second year in a row, for whatever reason, it has elected to pay nothing toward this site. Go figure...


Date: February 13, 2002
• We were pleased as punch when our saucy little Santa made it up on the Catsup Bottle this season. Unfortunately that brought more attention to the paint that has been flaking off the legs for quite some time now. To find out why this has gotten to be such an embarrassment, and to ask if anything is being done about it, contact the new chairman of the Catsup Bottle Preservation Group.



Date: March 1, 2002
• Media Release: Gear up now for the 4th annual Downtown Collinsville World's Largest Catsup Bottle Summerfest Birthday Party and Custom 'n' Classic Car 'n' Truck Show Bash!
This big event, with an even bigger name, is scheduled for Sunday, July 7, 2002. All day long there's music, crafts, food, fun, and games. Something for everyone. Bring the family! Nearly 300 vehicles parked along the streets of historic downtown Collinsville make this the biggest and best show in southern Illinois.
From very humble beginnings, this event has grown to be a huge kid-friendly, family-oriented, non-alcohol day of enjoyment. Mark your calendars now to attend! Birthday party games for kids of all ages include: Hula Hoops, Please Pass the Catsup, Musical Chairs, Water Balloon Toss, and our very own special version of Spin the Bottle.
Do you think you know your catsups? Take the "Brooks Catsup Tangy Taste Test" and see if you really can tell the difference!
Don't miss the special "Salute to our Heroes" area with displays and demonstrations from the Collinsville Fire and Police Departments.
See the first ever "Midwest Regional DARE Car Showcase" featuring D.A.R.E. cars from municipalities all over the area will be on display. Kids and parents can vote for their favorites!
Contact: Judy DeMoisy, Downtown Collinsville, Inc. 618-345-5598
Business and corporate sponsor packages are available by contacting Judy at 618-345-5598.


Date: March 10, 2002
• It's that time of year again! Every year kids at one of our local elementary schools pick the Catsup Bottle for their big history class project. Well, now it's crunch time as kids and parents alike call the office for last minute information! We love helping out, and it's a real thrill to see the completed projects! Keep up the good work everyone!

Date: May 15, 2002
• Keep a close eye out at your local newstand this summer - the Catsup Bottle will be appearing there! Some appearances will be calendar listings for the Summerfest, and others will be full blown articles with photos. The first will be the May 19 issue of the Chicago Tribune. Then be sure to pick up the June issue of Money magazine, and the July issues of Esquire and National Geographic Travel. You may also want to get the Summer issues of AAA Travel, Crooked Creations Crafts & Folk Art, Illinois Now, St. Louis Homes & Lifestyle, and American Profile magazines. Keep a look out for an upcoming piece in the Chicago Reader, and the Get Out section of the St. Louis Post-Dispatch.

Date: May 24, 2002
• We all know the Catsup Bottle is "money," but now everyone else does, too! After being in the May 19 issue of the Chicago Tribune and the May 23 St. Louis Post Dispatch - Get Out Magazine, the World's Largest Catsup Bottle is today appearing on the CNN-Money Magazine web site! And when the June print issue of Money hits the newsstands our kitschy condiment will appear there as well! We're in the section entitled "5 Great Summer Drives."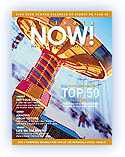 • The summer issue of "Illinois Now!" features a full page photo and a wonderful write-up about our towering attraction and the July 7 Summerfest. They even call it one of Illinois' most "looked up to" monuments! (Heh, heh, we get it!) Log on to www.enjoyillinois.com to get your copy of this beautiful, full-color, free magazine from the Illinois Bureau of Tourism.
• You can also get a load of our landmark in the upcoming issues of The Chicago Reader, AAA Midwest Traveler, St. Louis Home & Lifestyle, National Geographic Travel, American Profile, and Esquire magazines!
• A couple of other noteworthy media things: * A production company in New York, Highnoon Productions, requested photos and info for a show they are producing for Food TV called "Unwrapped." It will air in late July or August. * We recently received a call from text book publisher Sundance Publications. They are creating a text book about landmarks and are interested in putting the Catsup Bottle on the cover! We'll have to wait and see how this turns out. * We received an email request from German TV & Radio Productions. A company based in New York that produces stories for the media in Germany. * And, a call requesting information came in recently from Food TV Network in Los Angeles.

Date: June, 2002
• The legs finally get repainted!
• Work begins in ernest to prepare the final draft of the nomination for the Catsup Bottle to the National Register of Historic Places.
Date: July 7, 2002
• The 4th Annual Downtown Collinsville Catsup Bottle Summerfest is a huge success!

Date: July 10, 2002
• We sincerely appreciate all the support for this year's fest. Cooperation and enthusiasm is better then ever, and we can't thank everyone enough!
• To see some great photos click to our Summerfest page.

Date: July 15, 2002
• One of the best articles EVER about the Catsup Bottle appears in the Chicago Tribune. Writer Mike Conklin covered everything from the Summerfest to the National Register, to Caldwell Tanks (builders of the Catsup Bottle). Thanks, Mike, it's much appreciated!


Date: July 24, 2002
• Judy DeMoisy makes the Brooks Catsup Bottle Water Tower presentation to the Illinois Historic Sites Advisory Council. The nomination is approved and passed on to Washington, D.C.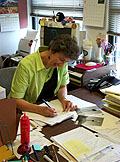 Date: August 13, 2002
• It's official! The World's Largest Catsup Bottle (aka: the Brooks Catsup Bottle water tower) is listed on the National Register of Historic Places. Here we have Beth Boland signing the nomination in Washington, D.C. Beth is the National Register of Historic Places reviewer for the state of Illinois. To take a look at the nomination paperwork click here.

Date: September 20, 2002
• The October issue of Signs of the Times magazine includes a section called "Weird & Wonderful, Bizarre & Beautiful, & Just Plain Cool Signage" The Catsup Bottle is featured in a punny little piece entitled "This Sign Cuts The Mustard."

Date: September 25, 2002
• One of our dearest friends and biggest supporters in Collinsville, Lois Metzger, brought in a newsletter she picked up on her vacation in Wyoming. The "Tidbits Cheyenne" #363 featured an article by Janet Spencer titled "World's Largest Things" that included a section about the battle to save our bottle.

Date: September 28, 2002
• Our north-of-the-border buddy and culinary expert Cliff Lowe mentions us and includes a photo in his recent article titled "Make a Gourmet Gallop: Use Ketchup." His piece includes one of the best explanations of the history of ketchup we've ever read. Thanks, Cliff! Check it out in Cliff's Corner at www.inmamaskitchen.com.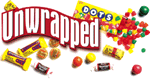 Date: Sunday, September 29, 2002, 9:00 pm CT
• The premier of "Record Breakers Unwrapped" (episode #CWSP12) on the Food Network.
• If you want to see the biggest, oldest, or the first - tune it to this special record-breaking edition of "Unwrapped" on Food TV. The biggest cookie factory! The top selling candy bar! The world's largest peanut! The Big Texan 72 oz. steak! And of course, the World's Largest Catsup Bottle!

Scheduled air dates & times as follows. Check FoodTV.com for more!
Sunday, September 29, 2002, 9:00 pm CT
Monday, September 30, 2002, 12:00 am CT
Saturday, October 5, 2002, 4:00 pm CT
Sunday, October 6, 2002, 10:00 am CT

Date: October 7, 2002
• We received a thank you letter reminded us that the Catsup Bottle will be featured in a book entitled "Uniquely Illinois". Part of the six-book Heinemann State Studies series for students in grades 3 thru 5. Ordering information is available on the Heinemann Classroom web site.

Date: October 18, 2002
• The Faithful Lines article in "The Criterion" is titled "Thoughts about childhood landmarks." Author Shirley Vogler Meister was surprised to see a photo of the Catsup Bottle in the Indianapolis Star and it prompted her to write a very thoughtful and inspiring piece about what her daughters called "the big catsup" that "reached to heaven". Shirley is a member of Christ the King Parish in Indianapolis and is a regular columnist for "The Criterion."



Date: October 25, 2002
• Gerhart "Gary" S. Suppiger, Jr. died today at the age of 83. He was President of Brooks Foods after his father, Gerhart Sr., who was responsible for having the Catsup bottle water tower built in 1949. Suppiger's wife, Mary Jeanne, said Gary "had the greatest admiration for Judy DeMoisy and all the people who restored the catsup bottle." Gerhart Suppiger III said his father "was thrilled" that the people of Collinsville adopted the catsup bottle.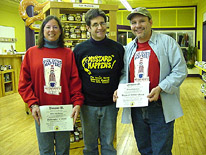 Date: November 6-9, 2002
• Attendance at the Tri-State Main Street Program Conference in Dubuque, Iowa, afforded us the opportunity to do a little site seeing while we were out and about. The whirl wind road trip was a blast and not unlike the patented Hyper Tours contucted by our friends at RoadsideAmerica.com.
• We visited uber-babe Vanna Whitewall in Peoria, Illinois, the World's Largest Strawberry in Strawberry Point, Iowa, and the Mustard Museum in Mt. Horeb, Wisconsin, where we graduated with honors from Poupon U...! We were also able to hit the Field of Dreams, House on the Rock, and a few other great roadside attractions, all the while spreading the word of our landmark water tower.

Date: November 27, 2002
• Over three years in the making! The film titled "The Main Stream with Roy Blount Jr." will premier on PBS Tuesday, December 17, 2002, at 8:00 pm CT. It's an offbeat journey down the Mississippi River exploring the literal and metaphorical "mainstream" of America. This two-hour show was produced and directed by award-winning filmmaker Roger Weisberg, shot in HDTV, and is presented by Thirteen/WNET New York.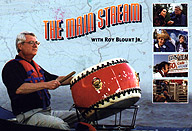 Roger, Roy, and the entire gang from Public Policy Productions in New York visited the Catsup Bottle in July of 1999 for an afternoon of shooting. We had a great time! Unfortunately, a nice letter from Roger explained recently that our segment ended up on the cutting room floor. Can you believe that?!?
But that's okay. We still want everyone to know about this film and we're sure it'll bring home the Oscar!

Date: Friday, December 6, 2002
• Santa Claus climbs again! The holiday tradition continues this year as a new partnership between Collinsville Progress, Inc. and Downtown Collinsville, Inc. And a special thank you goes out to Ron Reinick and his guys at Diversified Coatings of O'Fallon, Illinois for all the hard work. Santa wouldn't get off the ground with out 'em!
(

Update:

Unfortunately, this new partnership with Collinsville Progress, Inc. was very short-lived. The "inner circle" of Collinsville Progress reared it's ugly head and put the kibosh on everything for the future!)



Date: Wednesday, December 11, 2002
• We just learned that Superman is in peril. Kryponite is not the culprit this time, it's the city leaders of Metropolis, Illinois. The Chamber of Commerce and the Tourism Bureau are helpless, the mayor says his hands are tied... who can save him!?
The 75-year-old landmark city water tower emblazoned with a Superman logo is scheduled to be torn down on January 6, 2003. Metropolis, at the southern tip of Illinois, is the only city in America with that name, and is the adopted home of Superman.
Can we save the Man of Steel water tower? For the complete story and the latest updates go to the Super Planet Chronicle. (Unfortunately we have learned that the water tower came down as scheduled on January 6, 2003.)