Date: May 1998
• Ace Hardware publishes a "Really Big Sale" newspaper supplement throughout Ohio that includes the World's Largest Catsup Bottle. Also featured are the World's Largest Ball of Twine, the World's Biggest Frying Pan, big-time broadcaster John Madden, and Marie Osmond.
• Using money received from the Midwest Living Hometown Pride Award, the Catsup Bottle Preservation Group purchases an incredible 42" x 140" photographic print of the water tower. The piece is presented to the Collinsville Memorial Public Library and hangs in the stairwell leading from the main floor to the second floor children's library.

Date: June 1998
• The 1949-1999 50th Anniversary logo is created. New t-shirts and sweatshirts are produced. Refrigerator magnets also go on sale. Talks begin in regard to the creation of the Official International World's Largest Catsup Bottle Fan Club. Talk of an official World's Largest Catsup Bottle Web site also begins.

Date: August 20, 1998
• Recently 96.1 KSTR radio in Grand Junction, Colorado, learned of the Catsup Bottle and contacted us. Judy had a great interview with the Brad & Steven morning show. Folks all around the country were able to listen to it via the radio station's Web site.

Date: August 24, 1998
• Downtown Collinsville, Inc. and the Catsup Bottle Preservation Group are proud to announce the latest exhibit at the Collin Art Gallery 317. "Rebirth of a Landmark - A Photographic Essay" is on display from August 24 through Saturday, September 19, 1998. A reception was held Friday, September 18. The show features 25 photographs by Thomas Miller and Mike Gassmann taken before, during, and after the World's Largest Catsup Bottle restoration project.

Date: August 29, 1998
• Producers for the cable TV network Country Music Television were in town on Saturday, August 29. They were shooting footage of the Catsup Bottle to be aired during their year-end "Biggest and Best Music Video Awards" program. The show will debut Thanksgiving weekend and then rerun throughout December. Terri Ann Blanton, coordinating producer for CMT, said, "This is our way of celebrating the fun and weirdness of America!" Other regional stops on their around-the-country adventure included the National Bowling Hall of Fame and the Elvis is Alive Museum. Aside from Bottle video, they also shot interviews with the "Catsup Bottle Lady" Judy DeMoisy and Fan Club President Mike Gassmann. It was five hours of hard work and lots of fun wherein Judy says "The Bottle is our Eiffel Tower." and "I don't know anything about country music!" We can't wait to see the end result - hopefully it won't be too embarrassing. So here's to our new friends at CMT… Terri-Ann, Steven, Rebecca, Dee, Tommy, and Richard. Thanks for coming by!!

Date: September 6, 1998
• After months of planning, months of compiling information and photos, months of writing, and lots of graphic designing and html programming, the Official World's Largest Catsup Bottle Web Site goes online at www.catsupbottle.com. The design, text, photos, and graphics were all produced by Mike Gassmann and the Web site programming and consultation is done by Don Leone. The cyberworld will never be the same again.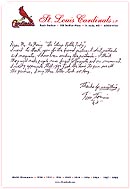 Date: September 9, 1998
• On September 8, 1998, he had retrieved St. Louis Cardinal slugger Mark McGwire's record breaking 62nd home run ball. On September 9th, 22 year old Collinsville resident Tim Forneris appeared on the David Letterman show. When asked where he was from, Tim answered proudly, "Collinsville, Illinois... International Horseradish Capital of the World - and we also have this really large Catsup Bottle!" The crowd went wild. Congrats to you, Tim, and thanks for the plug on TV, and thanks for the nice note.


Date: October 1998
• Randy Garbin, publisher of Roadside magazine, popped by to see us. He was on a cross-country trip from Oregon back to Worchester, Massachusetts. He discovered us by way of the Internet, and this little visit would lead to a wonderful, kindred spirit friendship.

Date: October 19, 1998
• The Catsup Bottle photo exhibit has a successful showing in Boston, Massachusetts at the Ernst and Young Center for Business Knowledge weekend conference. E & Y business researcher Manya Chylinski said the Catup Bottle fit their theme of unique tourist attractions from around the world. "It was quite the topic of conversation," she said.

Date: October 25, 1998
• The Travel section of the Sunday, October 25 edition of the Chicago Sun-Times features a fantastic article about the Catsup Bottle. Author Dave Hoekstra, a longtime Bottlefan, drives in from Chicago to visit and ended up writing an incredible piece announcing the new Web site and Fan Club.

Date: December 1998
• Quite a few months ago, we got a call from Sasie Sealy with A&E Media, part of the History Channel in New York. They have a calendar on the Internet entitled "This day in Automotive History." Carrie Knoblock, now in charge of the project, recently called to let us know our Catsup Bottle and the Web site were featured last September. Check it out, the History Channel Web site is www.historychannel.com.
• The publisher of Two-Lane Roads newspaper, Loren Eyrich, includes a picture of the Catsup Bottle in his book "No Sleeping on Pavement," a collection of wacky roadside signs and attractions.
• Collinsville and the World's Largest Catsup Bottle is mentioned in the suspence thriller novel "And Then You Die" by Iris Johansen.
• Linda Herman of Walking Stick Press in San Francisco emailed us for a slide of the Catsup Bottle. She is doing research for a book entitled "Art of the State: Illinois." Publication is scheduled for Fall of 1999.
• Articles with color photos appear in the Collinsville Journal and the Belleville News-Democrat announcing the new 50th Anniversary logo merchandise. T-shirts, sweatshirts, refrigerator magnets, and coffee mugs are all now available.