Date: January 9, 1995
• Wally Spiers of the Belleville News-Democrat runs a nice wrap-up column. In it Judy explains, "We've sent shirts to 35 states and we probably get 100 calls a week!" The CBPG doesn't plan to abandon the tower after it is painted. It needs to be kept up like any monument. "I'd like to get a maintenance fund, plus other things," she said. "There's heritage education, lesson plans, a state marker, interpretive signs, and lighting... of course you know we don't have the money for all that!"

Date: January 17, 1995
• A wonderful article by Ken Armstrong runs in the Chicago Tribune titled "Water Towers Serve As Towns' Calling Cards."
Date: January 29,1995
• Ken Armstrong's article also appears in the Spartanburg (SC) Herald Journal with the headline "Unique towers hold more than water." The paper used a pull-out quote from Judy to highlight the piece. She said, "You know where you are when you see the Catsup Bottle, just like you know where you are when you see the Eiffel Tower."
Date: January 1995
• Appreciation for the World's Largest Catsup Bottle is finally catching on. The Collinsville Convention and Visitors Bureau publishes a tourism brochure with Inland Design Group and featuring the water tower on the cover (along with Collinsville's other attractions, Fairmount Park Racetrack and Cahokia Mounds World Heritage site).
• The Catsup Bottle is the inspiration for Illinois House Majority Leader Robert Churchill (R-Lake Villa) to put a stop to honorary resolutions. Mr. Churchill saying "The system has been abused." It cost $55 for each resolution to be passed by the Illinois House. Mike Cys, House Republican spokesman says, "Reps love to give them and people love to get them, but they cost a lot of money." Cys bashed Representative Jay Hoffman (D-Collinsville) for Resolution #2908 honoring the Catsup Bottle. Jay said, "Well if you're from Collinsville and trying to raise $60,000 then you don't think it's very silly."
Date: February 6, 1995
• Preservation Group says $20,000 to go. Judy says, "There were many people who told us we were crazy when we started this. They said we'd never get there, but we're getting there!" She also explained: The whole purpose is more than painting it. It is community spirit, renewal of hometown pride, and an opportunity to pass on our history to future generations.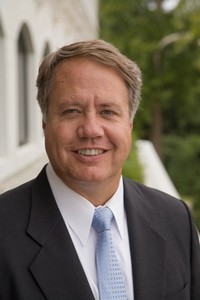 • Plans are announced for a celebration parade to be held on June 3, 1995.
• Rep. Jay Hoffman comments again about the recent criticism in the House. "It's rediculous to use us as an example when it is very important to the people of Collinsville. It offends me that they would denigrate our Catsup Bottle." You go, Jay!

Date: February 13, 1995
• An anonymous caller makes quite a few negative and rather unintelligible remarks into the Belleville News-Democrat "Sound Off" column.

Date: March, 1995
• The Madison County Geneological Society newsletter gives an update report that fundraising sales are still going on and that everyone is invited to watch the restoration fun beginning in April.
• The spring/summer edition of the SCA Journal magazine features the Catsup Bottle in an article "Programatic Architecture 'Round The States." Also appearing is the Shoe House in York, PA, and Smith's Igloo Lodge in Alaska.


Date: April 3, 1995
• Workers from Diversified Coatings, Ltd. arrive at the site and work begins. "I'm glad to be a part of it," said Rod Reinneck. "It's an honor! I just hope we have good weather so we can make it in time for the parade." For a complete story of the work check out our Restoration page.

Date: April 4, 1995
• A brief mention on the KMOV Channel 4 news at 10:00 pm, reports that the work has begun.


Date: April 8 & 9, 1995
• Photos appear in both the Belleville News-Democrat and the Collinsville Herald.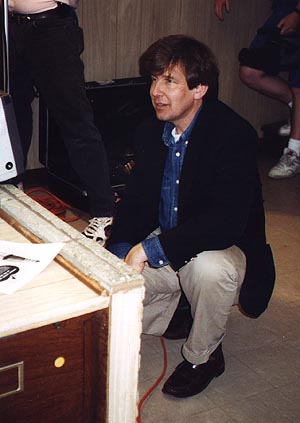 Date: April 17, 1995
• Patrick Murphy Productions, and St. Louis public television station KETC Channel 9, film a two minute segment about the Catsup Bottle and put it into heavy rotation between programs.

Date: April 19, 1995
• Catsup Bottle shirts appear around the world. Thilerna French, of Collinsville, gives a shirt to her tour bus driver in Stockholm, Sweden. Also, Kim Petr gives a shirt to a Red Square street vendor in Moscow.


Date: April 21, 1995
• Boomerang's Bar & Grill, located just down the street from the Catsup Bottle puts on a fundraising golf tournament. Owner John Robbers said, "I've been wanting to put something together. It's an important landmark, especially to us!"

Date: April 22, 1995
• Regional appreciation for the Catsup Bottle continues. A case study of the project is presented by Judy DeMoisy at the Missouri Historic Preservation Conference in Clayton, Missouri.

Date: April 1995
• The Collinsville High School Kahoki newspaper features a photo of the workmen in a spider basket suspended from the Catsup Bottle.
• Architect Tom Koskowski, of world-renown architectural firm HOK in St. Louis, designs lighting for the Bottle at no charge.
• Bank balance: $55,280 - still over $20,000 shy of the goal as restoration work has begun.

Date: May 1995
• Preservation Group member Wade McCormick constructs a 12 ft. tall Catsup Bottle on wheels. This ingenious creation is used as a parade float. A small door in the back allows a person to get inside and walk the Bottle around, looking as if it's motoring under its own power. Inside it is equipped with a small battery operated fan and a drink holder for those hot summer afternoons.
• When preparing Phase 1 of a Historic Preservation Plan for the city of Collinsville, Land Strategies Corporation stated, "This historic preservation project should result in approximately 2.5 million in tourism related expenditures brought to Collinsville area businesses in the next five years."
• The summer issue of Tank Talk newsletter features a Catsup Bottle article. Tank Talk is published as an informational service to owners and engineers of storage tanks by Tank Industry Consultants.

Date: May 10, 1995
• The bank balance is roughly $58,2000 and the first payment of $19360 is made to Diversified Coatings. The CBPG is still waiting for the $10,000 from Brooks Foods. The effort is still short by about $8500.

Date: May 24, 1995
• A Catsup Bottle slide show is presented to three Collinsville elementary schools (Jefferson, Lincoln, and Hollywood Heights) and is a big hit with the kids.

Date: May 28, 1995
• Work continues on the restoration. Lots of rainy weather (almost 10 days straight) and a tornado or two, delays progress and puts things behind schedule. But, the parade and lighting ceremony will go on as planned. St. Louis newspaper columnist, Elaine Viets, is named as the parade's Grand Marshal.

Date: May 31, 1995
• The concept of the "Catsup Bottle Park" is first presented to the Collinsville Area Recreational District during a charette to get public input on the possible future plans of CARD.

Date: June 1 and 2, 1995
• Articles and/or brief mentions about the Catsup Bottle parade appear in the St. Louis Post Dispatch, Collinsville Herald, Belleville News Democrat, Fairview Heights Tribune, and the Metro East Family Gazette.

Date: June 3, 1995
• On June 3, 1995, parade is held down Main Street to celebrate the successful restoration project. St. Louis newspaper columnist, Elaine Viets, is the Grand Marshal. The Catsup Bottle Preservation Group invites everyone and anyone who wants to be in the parade to be in the parade. Participants included city council members, the police & fire departments, the painting crew, Elvis, Miss Collinsville, and many more! At dusk, the day of celebration came to a close with a bottle lighting ceremony. Rainy weather had caused the project to move slower than expected, and completion was still two weeks away.

Date: June 4, 1995
• Rod Reinneck of Diversified Coatings says of the paint job and design "It's exact!" He also commented on the doing such a unique project. "It was a little spooky at first. It's really tall and skinny!"
• Actually, believe it or not, the painting job is not "exact." There is one minor change from the original 1949 paint job to the 1995 paint job. This is a great Catsup Bottle trivia question. We know the answer, but do you know what's different? If you know the answer, email us and we'll mention you here on the web site!

Date: June 5, 1995
• City of Collinsville Proclamation by then-Mayor Vince Kutzera declared the week of June 5, 1995, as Catsup Bottle Appreciation Week.

Date: June 15, 1995
• Post Dispatch columnist and parade Grand Marshal Elaine Viets writes a great article to follow up on the parade. She says, "The only bad thing about being a parade marshal is that you don't actually get to watch the parade!" Basking in the success of the festivities, parade organizer Wade McCormick says "I left it all up to the Lord and it wasn't difficult at all." The Catsup Bottle Lady Judy DeMoisy replied with, "Really? Well, the Lord sure had me running!"

Date: June 21, 1995
• Work is almost complete. Workers Rod Reinneck and Larry Pettus chatted with the media. Larry confesses he had been atop the water tower before 20 years ago. "I was 17 and climbed up and spray painted "Larry Loves Kathy.' She was the first love of my life." Rod says, "It was fun climbing around on a 70 foot catsup bottle all day. Kind of like Land of the Giants!"
• One thing that was not so fun was cleaning the inside of the tank. An opening in the cap allowed birds to roost inside, and it was darn near knee deep in pigeon poop! Larry says, "I bet there was 2-1/2 tones of it!" Another thing was the heat - inside the temperature of the steel reached 138 degrees!

Date: June 30, 1995
• The project is complete by the end of June, 1995.
• Bank balance: $62,200

Date: July 1995
• The magazine Country Extra features an article titled "These Landmarks Tower Above Towns." The water tower photos were sent in by readers. Those choosen for publication were the Catsup Bottle; the "World's Largest Ear of Corn" in Rochester, Minn.; the "World's Largest Fishing Bobber" in Pequot Lakes, Minn.; and the "Hot" and "Cold" tanks in Pratt, Kansas.

Date: July 1995
• The Collinsville City Council gives Catsup Bottle Preservation Group a recognition award.
• The July 2 issue of the Grit newspaper features a story and photo of the Catsup Bottle.
• Mound City Empties features a nice follow up article.
• Collinsville Progress, Inc. gives its Improvement of the Month Award to sites owners Larry & Jim Eckert.
• Curtice Burns finally honors its commitment and sends a $10,000 check.
• Final payment of $77,440 is made to Diversified Coatings.
• Preservation Group leader, Judy DeMoisy, is given the special Historic Preservation Award by Collinsville Progress, Inc.

Date: August 1995
• The Catsup Bottle Preservation Group calls it quits for selling souvenirs at the Catsup Bottle site. Over 6,000 shirts and other items had been sold during the last two years. For the previous 53 Saturdays, within a span of four hours, sales at the Catsup Bottle site averaged $1,000 per week.

Date: September 1995
• The fall issue of the Society for Commercial Archeology newsletter, SCA News, features a nice follow up piece. As does the Sept/Oct issue of the National Trust newsletter Preservation News.

Date: September 14, 1995
• An article appears in the San Francisco Chronicle.

Date: September 27, 1995
• An article appears in the Rock Island Argus.

Date: October 1995
• Follow up articles and photos appear in Sign Business magazine and the Illinois Historic Preservation Agency newsletter, Historic Illinois.
• The Catsup Bottle Lady, Judy DeMoisy, starts a "real" job as the Downtown Manager for the city's Downtown Development Commission. Her mission will be to implement the Illinois Main Street Program for downtown revitalization.

Date: October 10, 1995
• The World's Largest Catsup Bottle is discovered by a local traveler on a huge wall-sized map of the country in the Denver, Colorado, airport. And an article appears in the Belleville News Democrat about the artist Gary Sweeney.

Date: November 1995
• A 4-page story and photographic layout by Mike Gassmann appears in the national trade publication, Signs of the Times. The article documents the entire Catsup Bottle restoration project.
• In order to "set an itinerary for a really big date", Mademoiselle magazine publishes a 2-page map pointing out "oversized, overstated, and too big to be believed" things around the U.S. Along with the Catsup Bottle, they also point out the Sears Tower, the World's Largest Cuckoo Clock, and the Biggest Hamburger in America.
• Country Extra magazine publishes a follow up article titled, "Catsup Bottle Landmark Ripe for Photos Again."
• A wonderful letter to the editor by Gail Rissi Thomas is published. In it she recalls the 100 mile drive from home to Collinsville to visit her Grandma. And she explained that as far as she knew, that was HER Grandma's catsup factory! In fact, she even had a song they all sang called "Grandma's Catsup Shop Song." To Gail the Catsup Bottle wasn't just a landmark, it meant a whole lot more. It was the promise of Sunday morning sweet rolls, big family dinners, playing with cousins, and a walk to the grocery for Popsicles!