Date: 1960s
• Catsup bottling operations at the factory ceased by 1963 and were moved to Mt. Summit, Indiana. The now empty water tower is maintained and repainted. The 65,000 sq. ft. plant is now used as a warehouse and distribution center for Brooks products.
• After the catsup processing ended, the plant did contract work and produced Hawaiian Punch fruit drink.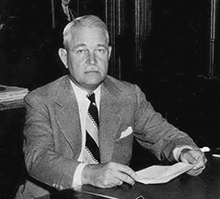 Date: 1965
• Company C.E.O., chemical engineer, inventor, and the proclaimed "idea man," Gerhart S. Suppiger, Sr., the father of the World's Largest Catsup Bottle, passes away in 1965.
Date: February 1967
• Brooks Foods, Inc. becomes a division of Curtice-Burns, Inc. of Rochester, New York.


Date: c1970
• The Catsup Bottle is painted with the new Brooks logo and label design. Afterwhich, maintenance and upkeep slack off considerably.
• After producing Hawaiian Punch for about a dozen years, the "catsup factory" as it was still called, began contract work to bottle a Bloody Mary drink mix for the McIlhenny Tabasco Company. A rather ironic twist of fate that would continue from the mid 1970s to the 90s.


Date: 1980s
• The once proud World's Largest Catsup Bottle sits neglected. Angelo Leoni, manager of the Brooks facility, said "It seems like every time we repaint it, somebody climbs up and sprays graffiti on it."

Date: June 18, 1987
• The Oscar Mayer Wienermobile makes what we believe is its first visit to the Catsup Bottle.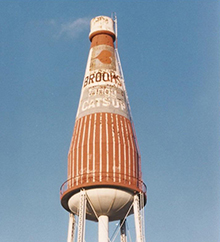 Date: 1990
• The Catsup Bottle has become somewhat of an eyesore and is seen as just this strange thing standing there. Although feature stories have appeared every so often in the newspapers, no one really appreciates it. Few remember its origin or its history or even its purpose. Angelo Leoni, a Brooks V.P. of Administration, said upkeep and maintenance on it just got too expensive.









Date: June 1992
• An article entitled "A Wild and Crazy Ride Along America's Byways" appears in the Travel section of the Chicago Sun-Times on Sunday, June 21, 1992 . The story previews the soon-to-be-released "Roadside America" book and features photos of the Catsup Bottle, the World's Largest Tire (Dearborn, Mich.), the World's Biggest Bull (Audubon, Iowa), and the World's Largest Six-Pack (La Crosse, Wis.).

Date: June 1992
• "The New Roadside America - The Modern Traveler's Guide to the Wild & Wonderful World of America's Tourist Attractions" is published by Fireside, and released on June 28, 1992. The World's Largest Catsup Bottle is briefly mentioned in the "condiments" section of the book. This is the first bit of national attention for the Catsup Bottle, and the snowball starts to roll...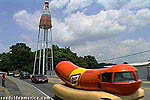 Date: July 1992
• The Oscar Mayer Wienermobile and our friends from Roadside America stop by for a visit. Thanks go out to Mike Wilkins, Ken Smith, and Doug Kirby, as they came by the Catsup Bottle on the promotional tour for their new book.