Date: 1891
• Collinsville Canning and Packing Company is started.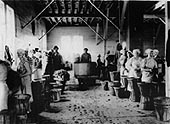 Date: 1907
• Brothers, Everett W. and Elgin S. Brooks, take ownership of the company. They operate under the name of Triumph Catsup and Pickle Company with headquarters in East St. Louis. The "ghost sign" image of this company name can still be seen on the brick wall of the old factory.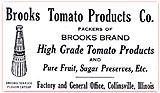 Date: 1916
• An advertisement in the Collinsville Herald from 1916 shows the company as Brooks Tomato Products Company packers of Brooks Brand High Grade Tomato Products and Pure Fruit and Sugar Preserves; Factory and General Offices in Collinsville, Illinois.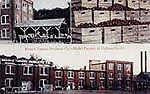 Date: 1919
• The 1919 Collinsville City Directory lists the Brooks Tomato Products Company with its office in the Kneedler Building on Main Street in downtown Collinsville. Everett W. Brooks, President; Gerhart Suppiger, Secretary.
• It also lists the home of Everett as being 1130 West Main Street.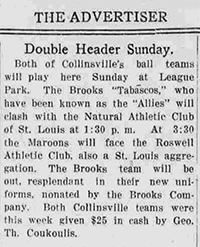 Date: June 14, 1919
• In 1919, Collinsville had two amateur baseball teams. One team named the Maroons, and the other the Brooks Tabascos. Originally known as the West Enders, then the Allies, they became the Tabascos after the Brooks company donated new uniforms to the team in June of 1919.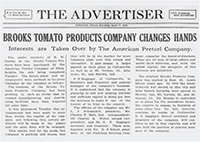 Date: 1920
• With his brother Elgin having passed away unexpectedly in 1917, Everett Watson Brooks sells the company to American Cone and Pretzel Company of Philadelphia. The new owners keep the Brooks brand name and Gerhart S. Suppiger of Collinsville remains as Secretary/Treasurer.


Date: 1927
• Gerhart Schott Suppiger, long time associate of the Brooks brothers and an officer in the company, resigns from American Cone & Pretzel Co. He starts his own state-of-the-art food processing plant in nearby Belleville, Illinois, appropriately named the G.S. Suppiger Company.




Date: June 1933
• The G.S. Suppiger Company purchases the Collinsville processing plant. This move greatly expands the operations, and gives G.S. Suppiger ownership of the popular Brooks brand name. A wide variety of food products are now produced, including chili beans, barbecue sauce, soups, hominy, spinach, spaghetti, and the incredibly popular flagship product: Brooks Tabasco Flavor Catsup.
• After aquiring the Brooks brand name, the roof-top water tank at the Belleville plant is painted like a big giant can of Brooks beans!
• The Brooks brand name and the distictive shape of the bottles became very well-known and easily recognized throughout the region because of the Suppiger's involvement in the community and their great marketing and promotion efforts. (More on this can be found on our History page.)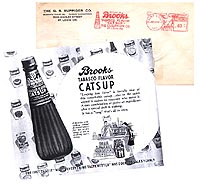 Date: January 10, 1942
• This is a good look at a special Brooks postal cancellation mark and an ad geared toward the grocery wholesale trade.



Date: mid 1940s
• The "Brooks Tabasco Flavor Catsup," as it was named, was extremely popular. So much so that the McIlhenny Tabasco Company threatened a lawsuit claiming the term "tabasco" was their copyrighted property. Not wanting to fight a costly legal battle, the Suppigers changed the name to "Brooks Old Original Tangy Catsup."